AFA Membership
The primary goal of the AFA is the education and dissemination of information related to aviculture among pet owners, hobbyists, avicultural societies, zoos, veterinarians, research institutions, the pet industry and government officials. The AFA is concerned about the welfare and humane care of all birds, and we promote the establishment of the highest standards of avian care both in the United States and abroad.
The AFA also supports your rights to acquire, keep, breed, and sell birds in a responsible manner. The organization monitors proposed laws and regulations at the local, state, federal and international level that affect your future as an aviculturist and the well being of birds.
How is all this accomplished? The AFA is primarily a volunteer organization. Our efforts to ensure the future growth & development of aviculture are totally dependent upon people like you joining and supporting AFA.
The AFA believes that aviculture is a valuable conservation tool and that the caring for and breeding of birds in captivity is an exciting & fulfilling human endeavor.
AFA offers many different services to its members because AFA has so many different types of members.
Membership Services and Benefits
All AFA members receive the following benefits:
AFA Watchbird Journal – the official publication of the AFA, filled with articles covering topics such as: avian health, nutrition, housing and care, breeding, species profile, conservation, legislative updates and more!
Classifieds – nationwide ads for exotic birds, bird related supplies and bird events in each issue of the AFA Watchbird Journal and the AFA Web Page
Traceable AFA Logo Bands – both open and closed bands available from canary to macaw
National Convention Discounts – discounted registration for members. Combining both fun and education, the conventions feature world-renowned speakers, the latest and newest bird products, exciting behind the scene tours and YOU, the member, making AFA's Convention the MAJOR bird event of the year
Legislative Information and Updates – provided on laws and regulations that impact avicultural activities
AFA Exotic Bird Registry – one of the only nonprofit registries for exotic birds in the world
And much more!
Levels of Membership
There are five different levels of AFA membership:
Individual Membership – Individual members receive all of the benefits of membership.
Family Membership – Receive all of the benefits of AFA membership for a family of two adults and children under the age of 18 residing at the same address.
Supporting Membership – Show your support of AFA and receive special recognition with a Supporting Membership
Commercial Membership – Available to businesses and organizations serving the avicultural community. Commercial members are recognized in the AFA Watchbird and on the AFA Website (with a link to your business).
Individual Sponsors – Individual sponsor memberships are available in five levels. Become a sponsor member today and receive special recognition in our journal and on the website.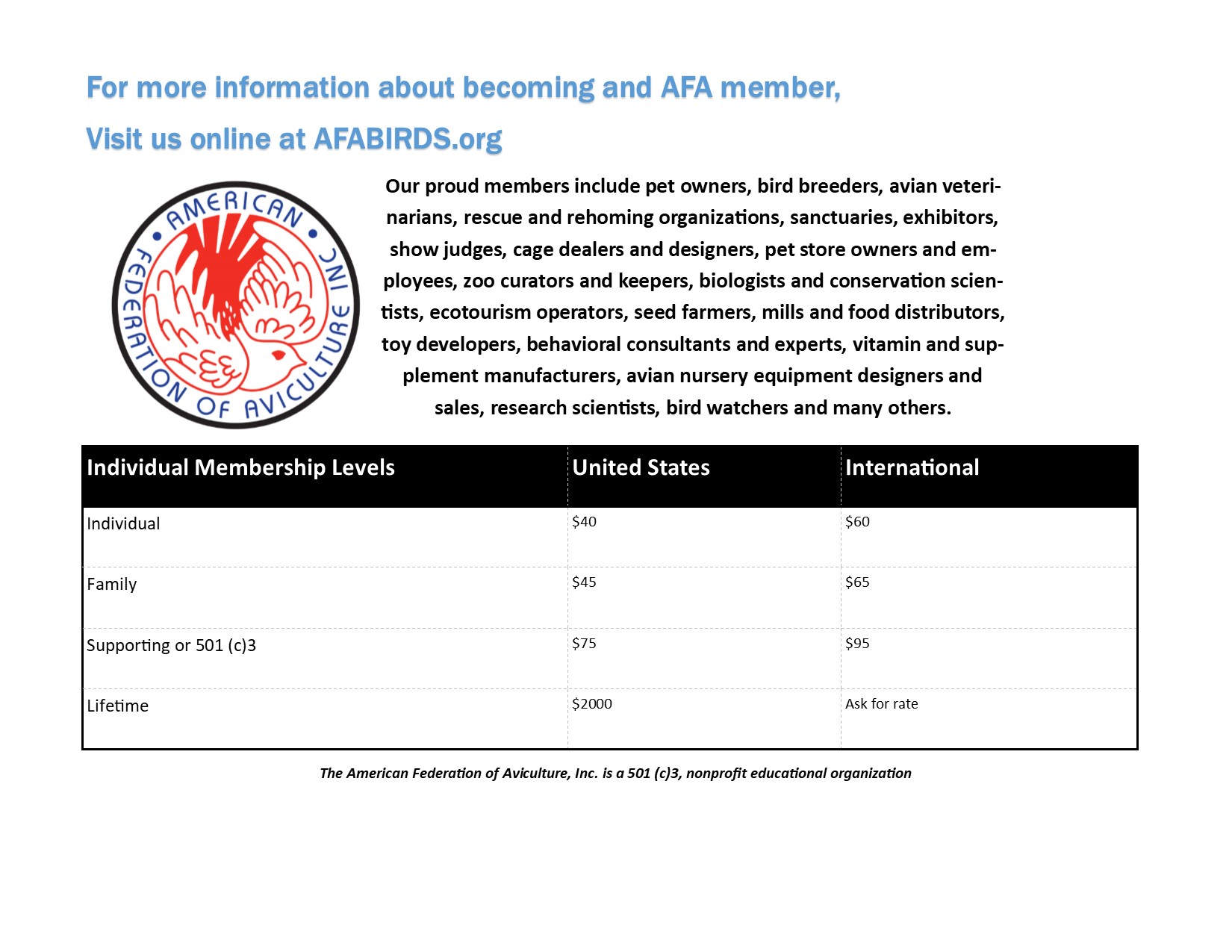 Use your Visa, Mastercard, American Express, or Discover Card to sign up for membership, or renew your existing membership. You don't need to be a Paypal account holder to pay using your credit card. To pay using any credit card, simply click any of our convenient "Pay Now" Paypal buttons to pay. Note: if you choose to sign up for auto-payments and have your card charged each year, you will need to be a Paypal member. For auto-renewal payments simply click any of our "Subscribe" buttons below.
Note: Paypal will provide us with your Name, Address, Phone, and email address. This is the information we need to process a membership. If you pay on this site there is no need to download our application.