Welcome to the 2021 AFA Conference Registration Page
From this page you will be able to:
1.   Register and Pay for the 2021 AFA Educational Conference
2.   Book your hotel room at the special AFA Conference Hotel Room Rate
3.   Purchase your 2021 AFA Conference T-shirt
4.   Purchase your Super Raffle Tickets below
5.   View and place a silent bid on the 2021 AFA Conference Artwork by Lyrae Perry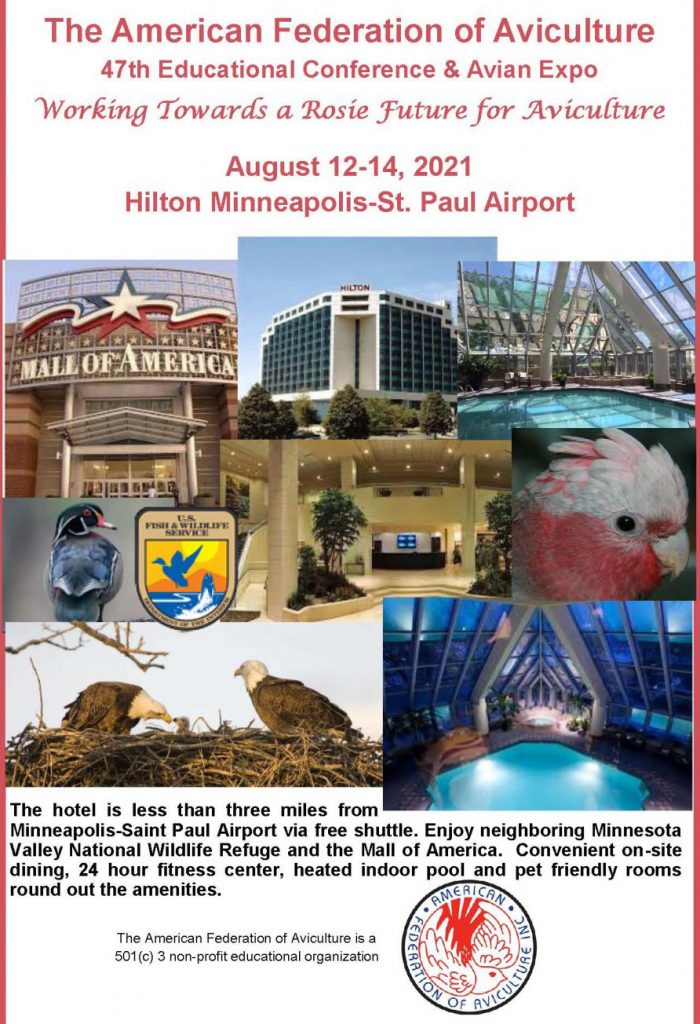 Our Keynote Speaker this year is: Gary Morgan
The official artist is: Lyrae Perry
1.     Register as an Attendee to the 2021 Conference and Avian Expo
2.     Book your stay at the Conference Hotel (Hilton Minneapolis-St. Paul)
The AFA has negotiated a reduced room rate of $129 for attendees to the 2021 Conference and Expo. Simply follow the tiny url below to book your room. Booking your room through this link helps the AFA provide this educational experience and gets you the best price available.
https://tinyurl.com/afabirds2021
3.   Visit the AFA Store to purchase your 2021 AFA Conference T-shirt depicting the artwork by Lyrae Perry.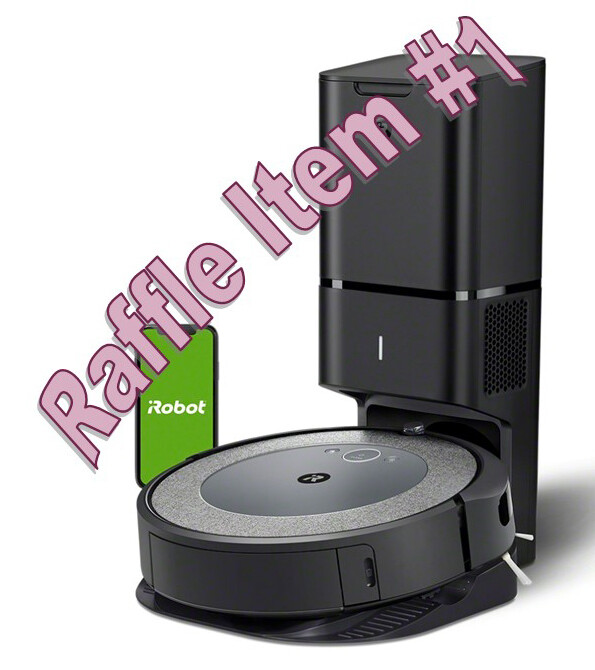 4.  Purchase AFA "SUPER Raffle" Tickets Here (Available NOW in the AFA Store)
We have some exciting prizes to include: Large Walk-in cage from Centurion Cages, Austin Air PET unit donated by ABC Birds, Baby Bird Brooder donated by Brinsea, a $500 gift card from Kaytee, a beautiful women's ring donated by Mary Ellen LePage, an i3 (3550) Roomba donated by Hill Country Aviaries, LLC, and a full registration and 4 nights in the hotel for our 2022 conference.

5.   Place a sealed bid on the 2021 Conference Artwork.
This year the AFA Conference bird is the Galah. Below is a digital depiction of the beautiful 2021 artwork by Lyrae Perry. The original piece is an 18″ x 24″ Oil on Canvas featuring a pair of Australian Galahs and a pair of Red-spotted Jezebel butterflies. You can own this original artwork! There will be a live auction held on Saturday evening at the conference banquet but if you are not planning to attend, you can place a sealed bid ahead of time. All sealed bids must be registered in the AFA Office by 4PM, Saturday, August 14th. To place a sealed bid, click the "Sealed Bid" product in the store above or on the our main page. Submit your bid through the cart system. You will not be charged at checkout. This is only a bid.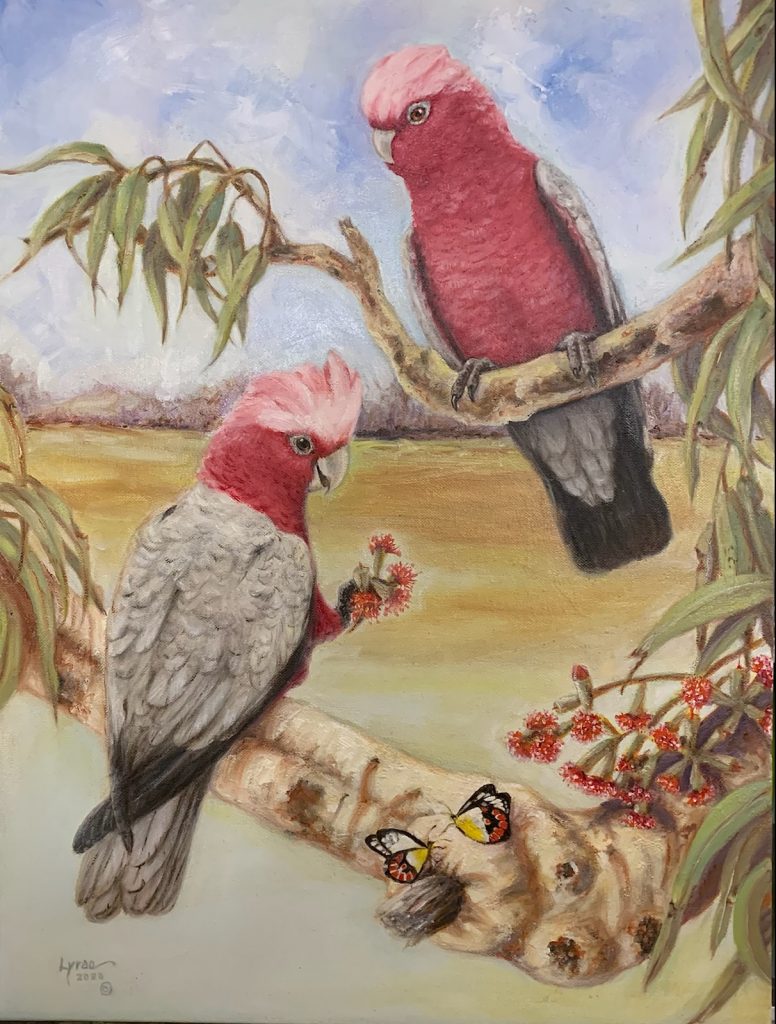 There are two zoos in Minneapolis. 
Minnesota Zoo in Apple Valley 
Como Park Zoo and Conservatory in St Paul
Both are AZA members. The Minnesota Zoo has an excellent bird show. 
The Conservatory at Como is spectacular and worth a visit itself. 
Both zoos are currently open with strict pandemic measures.
Speaker list – in progress!
| Speaker | Talk | Track |
| --- | --- | --- |
| Adrianne Mock | I have heard about a bill – what do I do? Navigating the Legislative Maze (While Avoiding the Minefield) | In-person |
| April Blazich | Gardening with Birds in Mind | In-person |
| Concetta Ferragamo, MS, CPBC, CASAC-T | Addressing Behaviors and Promoting Exercise From Within a Cage or Enclosure. | In-person |
| Debbie Goodrich | The critical role Parrots Play Addressing Global Carbon Crisis | In-person |
| Debbie Schweikardt | Its Bird Trivia Time AFA style! | In-person |
| Debbie Schweikardt | TBA | In-person |
| Dr. Janice Boyd, PhD | TBA | In-person |
| Dr. Jason Crean Ed.D | TBA | Virtual |
| Dr. Scott Echols, DVM | Advanced Imaging in Avian Medicine | Virtual |
| Drs. Donald Brightsmith & Gabriela Vigo-Trauco, PhDs | The Macaw Society: past research and a new beginning for parrot conservation. | Virtual |
| Elise Franchi | Give Your Birds a Glow Up! | In-person |
| Hila Neiman Parrots | Do we really understand how smart they are? | Virtual |
| Jack Pine | TBA | In-person |
| Jamie Whittaker | The Path From Rescue to New Home. | In-person |
| Jennifer Cunha | Tablet Communication and Games for Birds | Virtual |
| Karen Anderson | Don't Be Roadkill on the Parrot Information Superhighway | In-person |
| Karen Holmes | Genomic Analysis of Introgression and Pedigree Data of the Endangered Red Siskin (Spinus cucullatus) | Virtual |
| Lewis (Buddy) Waskey | How proposed USDA inspections will affect Pet Owners, Rescues Sanctuaries, Pet Stores and Breeders | In-person |
| Lewis (Buddy) Waskey, Amanda Hoffman and Kim Hatch | The Status of the Blue-throated Macaw, Ara glaucogularis, in both Bolivia and Aviculture. | In-person |
| Mark Moore | Shipping: As easy as they make it | In-person |
| Mindy Patterson | TBA | Virtual |
| Rainer Neiman | The Food Intake of Parrots and Parakeets | Virtual |
| Rick Jordan | Pstticine incubation and neonatal care | Virtual |
| Robin Shewokis | 1-100 It's All the Same Program – Enrichment planning for sized flocks | In-person |
| Robin Shewokis and Jack Pine | Workshop – Let's Make a Sandwich! – How Approximations Make Life Easier | In-person |
| Taylor Haines | Using genomics to create sustainable populations for aviculture: Case study of the Blue-headed Macaw | In-person |
| Tom Marshall | TBA | In-person |