IMPORTANT LEGISLATIVE UPDATE: SEE "Legislation" Tab above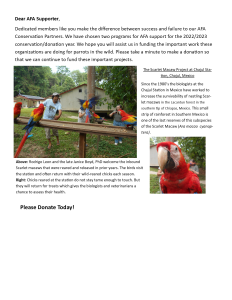 Who the AFA serves
We serve the United States and the international community of people who keep birds, such as bird breeders, pet owners, veterinarians, and conservation scientists. We also provide factual information to those who regulate the keeping of birds, so decision-makers have access to accurate, up-to-date information.
How to support our mission

A recognized non-profit
United States Federally registered 501 (C) 3 non-profit.
Identified by the U.S. Congress Offices of Technology and Assessment as the nation's grassroots organization of bird breeders.
Recognized by the Convention on International Trade in Endangered Species as an NGO allowed to provide input related U.S. involvement in the CITES treaty.
Founded in 1974.
Mission Statement

The mission and purpose of AFA shall be to promote the advancement of Aviculture through educational programs that support the advancement and improvement of breeding practices, husbandry practices, and living conditions for exotic birds, conservation, research and legislative awareness.
93417 for Unique Visitors
208733 for Page-views