Legislative Alert Update
Learn more: https://usark.org/2022lacey1/
Call or e-mail your senator's office: https://www.senate.gov/senators/senators-contact.htm
Want to support legislative awareness for birds? Attend our annual conference!
There have been changes to the COMPETES Act, with MANY amendments added, removed or updated. Section 71102, the Lacey Act Amendments, IS STILL in there but is now on a different page (2,060). This amendment is what we are concerned with.
The original COMPETES Act (HR 4521) is essentially dead, and is being reconciled (combined) with USICA- US Innovation and Competition Act (S 1260) which does not have and never had Lacey Act language.
Once the bills merge it will be a NEW bill, with a new name and may (or may not) have a new number.
Our goal is to either remove the Lacey Act Amendments from the COMPETES Act and to endure that the language is not included in the reconciliation bill.
In addition, it turns out that many emails and calls have NOT reached some legislators.
The staffers need to be on the Environment/Public Works committee, NOT animal welfare, although it probably would not hurt to do both as animal welfare absolutely will be affected by these amendments.
If you can get a face-to-face meeting with your elected representatives or their staffers that is best.
Phone conversations are also good if possible.
Our messaging to our legislators remains the same: Just say NO to the Lacey Act Amendments.
Please share this alert to members of the avicultural and bird keeping community
Call, email and fax your legislators
The changes to the Lacey Act will have a negative effect on nearly all animal owners in the US, on animal welfare and on the multibillion-dollar pet/companion animal industry.
Prohibition on interstate transport and importation of any species not included on a non-existent "white list"
Any non-native and non-domesticated species not on the "white list" will be considered to be injurious in ALL 50 STATES. This would include birds, reptiles, mammals, amphibians, insects/arachnids, fishes and invertebrates even if that species has no way to survive outside of a limited area. In short, everything except dogs, cats, domestic livestock.
A so-called "emergency declaration" to classify species as "injurious" would be allowed without notice or due process.
All non-native, non-domesticated species would be considered injurious proactively unless and until they are added to the (no yet existent) white list
link to USICA S 1260  https://www.congress.gov/bill/117th-congress/senate-bill/1260
link to America COMPETES Act https://www.congress.gov/bill/117th-congress/house-bill/4521
link to information on the USARK website https://usark.org/wp-content/uploads/2022/03/2022-Lacey-flyer.pdf?fbclid=IwAR3_M66Istl8lRo3eW1yFRJoc1AtKG4ToDb4CZ65LAtgfr-muQ2JL5wM5YY
Link to Cavalry Group input page to Congress; https://the-cavalry-group.rallycongress.com/ctas/urge-congressional-conference-committee-to-remove-lacey-amendment-from-america-competes
Who the AFA serves
We serve the United States and the international community of people who keep birds, such as bird breeders, pet owners, veterinarians, and conservation scientists. We also provide factual information to those who regulate the keeping of birds, so decision-makers have access to accurate, up-to-date information.
How to support our mission

A recognized non-profit
United States Federally registered 501 (C) 3 non-profit.
Identified by the U.S. Congress Offices of Technology and Assessment as the nation's grassroots organization of bird breeders.
Recognized by the Convention on International Trade in Endangered Species as an NGO allowed to provide input related U.S. involvement in the CITES treaty.
Founded in 1974.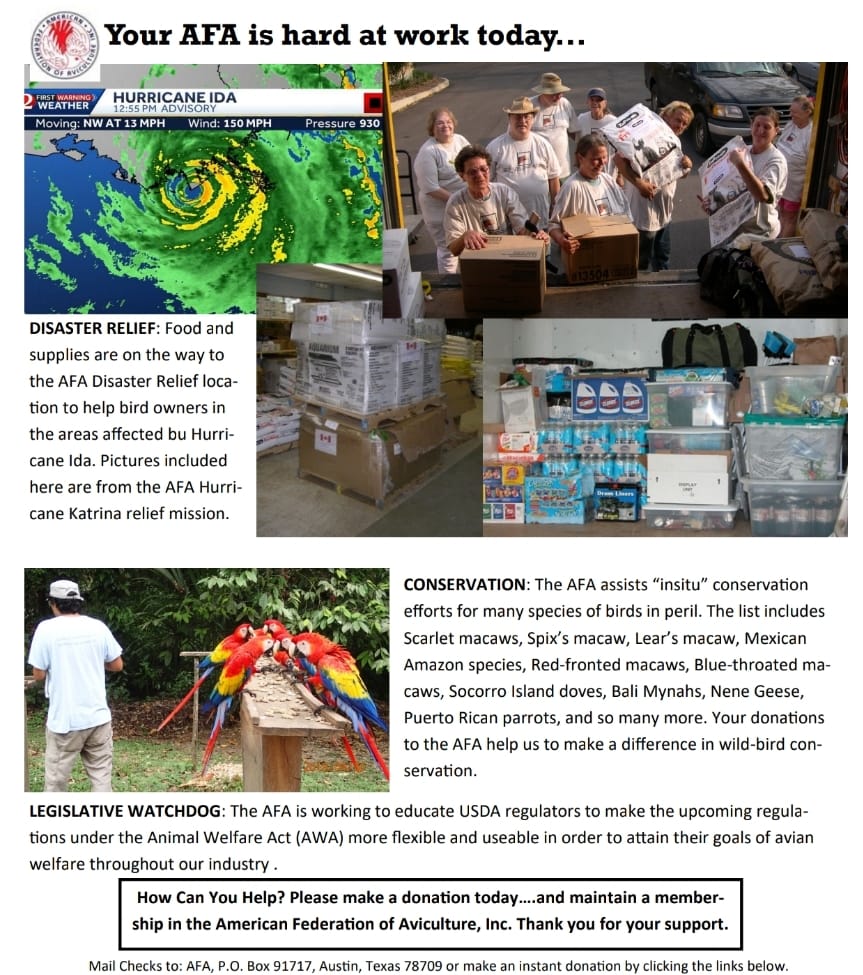 Mission Statement

The mission and purpose of AFA shall be to promote the advancement of Aviculture through educational programs that support the advancement and improvement of breeding practices, husbandry practices, and living conditions for exotic birds, conservation, research and legislative awareness.