DISASTER ALERT
Inconsolable catastrophe in fire-scorched Paradise of Maui, one of the most beautiful and historic chain of islands in our 50th state of Hawaii, commands our attention. The fires forced large scale evacuations, displaced hundreds of families, often having to leave behind their pets in the worst natural disaster in the history of the state. Dogs, cats and birds, if safe, may still be in jeopardy while human lives take priority. However, those who have rescued their pets and breeders will be hard-pressed to sustain them with out proper accommodations and food.  Please give generously to AFA Disaster Relief, so they know we care!
If you are in Maui and require assistance, apply for AFA Disaster Relief here: https://afabirds.org/2018_WordPress/?p=3387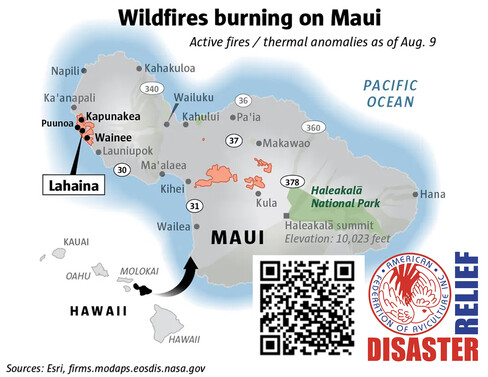 The AFA Disaster Relief Team is comprised of Regional Directors and others who are located throughout the United States. This expedites response times and notifies local volunteers who are monitoring the weather conditions as the need arises in their immediate areas. If you are in a disaster area needing assistance with your birds or know of anyone in need of help with their birds, reach out to our disaster relief team here!
We provide immediately needed emergency supplies and volunteers. Typically we provide food for your birds, cage wire, water, and carriers (for temporary housing). We have supplied chain link pipe when cage racks were destroyed or 4×4 beams. Tarps when needed for shade and protection from the elements.
Please scroll to the bottom for our disaster preparedness tips.


Disaster relief update 7/3/2023
The AFA Disaster Relief Program is consistently monitoring for disasters such as fires, hurricanes and tornadoes throughout the United States. The program assists those bird owners affected in a disaster area with needed items such as bird food, cage wire, building supplies etc. to see that birds are taken care of.
The latest opportunity to help with a disaster was on June 24, 2023 when a tornado destroyed a large building housing exotic birds in the Lakeland, Florida area. Thankfully no birds perished and all are being cared for while building is being replaced.
The Disaster Relief program is only made possible because of your donations both from individuals as well as businesses. The love for birds is why AFA Cares, and it shows.
Fred Smith
AFA Disaster Relief Chair
Disaster relief update 2/19/2021
The Disaster Relief Program is now faced with the terrible storms of snow, ice as well as subzero temperatures, and lack of electricity for those in Texas as well as Louisiana and other states. The ice has brought down many trees with some on cages. Thousands of birds have been in carriers during these storms while being kept in homes, buildings, and cars due to sub-zero temperatures. We help breeders and bird owners who are AFA members and non-members both in times of disaster.
If you need assistance or know of someone in need contact your State Coordinator listed on the website, you can also request disaster relief directly using the button above. We can only continue to assist those in need with your contributions. 100% of your donation goes to help those in need. You may donate to the program by going to www.afabirds.org and clicking the "donate now" button on the front page. The AFA can help with damage to aviaries and food supplies as a result of the unusually cold weather, power blackouts, and water supply issues. Such as damaged aviaries due to ice damage and falling trees, or broken pipes due to freezing.
The American Federation of Aviculture (AFA) started it's Disaster Relief Program after Hurricane Andrew destroyed much of southern Florida in 1992. The program was designed to help those with birds to provide temporary relief with such items as wire for cages, material for cage roofs as well as water and feed for the birds.
Over the years AFA Disaster Relief Program has helped thousands of birds who have survived disasters such as Hurricanes, Fires, Tornadoes and Floods.
This program has continued to help those impacted by disasters only with the donations of individuals as well as feed companies, bird clubs and other groups. Your donations have meant so much to these desperately needing assistance with their birds.
Thank you for your help,
Fred Smith
AFA Disaster Relief Coordinator
Disaster relief update 11/8/2020
The past three months have brought us several fires in the western states as well as two hurricanes.
AFA Disaster Relief has sent supplies to Ivan Fruge in Louisiana for those impacted by the hurricanes in that area. We have also sent supplies to Julie Corwin in Seattle, Washington for those impacted by the fires in Oregon and Washington, feed was sent to Bonnie Zimmerman for her birds during the local fires in her area.

When the first hurricane hit Louisiana, we needed feed as soon as possible as the local feed warehouse was completely destroyed. I contacted Lin Enterprises in Dade City, Florida who had also helped with getting supplies to Puerto Rico during the past hurricane and asked if he could get some feed shipped to Ivan asap. The next morning he had over 1,100 lbs of feed on its way to Ivan and at very reduced costs! As trucks were able to ship, Zupreem as well as Higgins started shipping supplies.

The Seed Factory donated feed to help Julie Corwin as she worked with localPet Stores to house and care for many birds being brought to her from owners who were unable to care for them since their own homes were destroyed.

These disasters have proven once again how so many donors step up offering to help with monies or supplies for our Disaster Relief Program! As of today all requests for assistance have been met.

Thank you to those Regional Directors as well as State Coordinators who stepped up to give me guidance as to what was needed and a place to send the supplies!
Respectfully submitted,
AFA Disaster Relief Coordinator
Fred Smith
Disaster Planning and Rescue
By Mary Ellen LePage, former Fire Chief for CalFire
Aviculturists around the globe may experience hurricanes, tornados, straight-line windstorms, floods, earthquakes or fires, and depending on where they live, they may have to endure snow and ice storms in winter or sandstorms in desert locations. Each type of disaster has its own timeline and fury and it presents its own unique set of plans to help assist bird owners that may be affected. Bird people should plan for, and learn how to, rescue their birds and the birds of others from any such disasters which could occur in their area.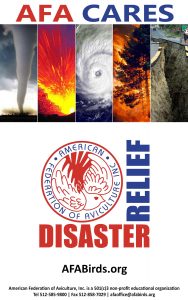 Plan! Plan! Plan!
The first step is to think about supplies that might be needed during any given emergency situation. Transporting birds requires cages or "carriers" and it may be wise to store pre-assembled or collapsible carriers where they can be accessed quickly. Make sure to equip the carriers with perches and water dishes. A tub that contains towels, nets, or gloves may be wise too for catching up birds that are not so tame. These things should be assembled and stored now as there may not be time when disaster strikes. If storage is a problem, hang them from the ceiling in your garage. Some people store emergency cages and carriers in the same area as the bird's permanent cage or flight. If cages/flights are locked, key all locks the same if possible. Otherwise, much time will be lost fumbling for the proper keys.
Make sure birds are easily identifiable through leg bands and/or microchips. You might want to have duplicate bird records stored elsewhere so they will be retrievable and you can easily prove ownership of your birds.
Plan ahead and Identify several locations to which birds may be relocated. Locate someone with a barn, garage or maybe even a vacant store that is likely to be out of the danger zone and where you will have permission to keep the birds.
Will there be tools needed to get into cages or catch up the birds? It might be wise to set up a tool box for emergency uses compete with wire cutters and other hardware. Depending on the disaster, a chain saw may be necessary as well.
Develop an evacuation plan. Obviously, the more birds that will be involved, and the larger they are, would mean you will need a larger transit vehicle. If rental vehicles must be used, make sure they have ventilation to the cargo section. Remember, in many emergencies roads are blocked or police are not allowing passage, so rescue vehicles may not be able to get to you. If an emergency is eminent, you need to get out before the roads are closed. Do not wait. Anticipate that the longer you wait, the roads will be gridlocked with others trying to evacuate and there may not be any gas, food or water available.
In cases where you do not evacuate, but stay on the property and shelters, you need to plan for your own generator, food, and water. If stocking ahead of time, replace the supplies of food and water regularly to avoid spoilage. During emergencies there may be long periods without electricity, communication, and available supplies. Know your GPS coordinates so rescuers can find you if street signs should be destroyed.
Draw up and post your written evacuation or shelter plan in an obvious place so rescue workers can find it if needed. The plan should contain contact information for you and your veterinarian, give instructions for how to catch the birds, which birds can go in the same carrier, how to retain the identity of the pairs, diet instructions and any health issues. Specify and map the location of birds, food and water, carriers, capture equipment, chainsaw, and tools. Have a checklist of what you need to take with you.
The decision whether to evacuate or not is often made last minute. Often this decision includes whether or not to evacuate the birds. In some storms, the birds may be able to weather it out and this would be preferable over the stress of capture and relocation. With fire approaching, the smoke danger also needs to be evaluated. When in doubt, get out! Some disasters do not give sufficient warning to make decisions easily. Remember, your safety comes first. If you need help, contact the American Federation of Aviculture Inc. through the main business office phone number 512-585-9800 or email them at afaoffice@afabirds.org.
Instructions for Bird Rescuers
Rescue only those birds whose life is threatened. Solicit experienced bird handlers to help with the rescue. The American Federation of Aviculture is ready to try to locate help for you. Call the American Federation of Aviculture's office at 512-585-9800 orafaoffice@afabirds.org.
Many times, the hardest part of rescue is getting to the area where the birds need to be rescued. Roads may be blocked by police to keep you from entering the disaster area. It will help if you have proof that you are a legitimate rescue to obtain access to the area. Your truck or vehicle can be marked with an AFA sign and logo. These magnetic signs can be obtained from the AFA office, as well as t-shirts, or name cards designating you to be an AFA disaster relief volunteer.
 Large disaster areas in the United States are supervised by the Occupational Safety and Health Administration (OSHA) Incident Command System (ICS). Each disaster has an Incident Commander who controls the whole rescue operation. All government disaster workers (police, firefighters, etc.) ultimately report to him. If stopped by the police, ask to contact the Incident Commander or his representative to obtain permission to enter the area.
If you cannot obtain permission to enter the area, there may be some local people that can direct you to alternate routes to go to your destination. However, do not risk your own life or welfare to enter a dangerous area.
If time allows, know where you are going to take the birds to safety. Any building that is safe and secure can be used. If you have already rescued the birds and need a place to take them, the American Federation of Aviculture will help you locate places to house the birds.
Have as many carriers as your vehicle will hold, or look for carriers on the premises. You may need a chain saw, wire cutters and other tools. Look for a disaster plan on the premises. If carriers are not available, crates, plastic storage boxes with ventilation holes and cardboard boxes can be used. Even paper bags may be used for the small birds.
Have bird nets and towels which may be needed for catching the birds. In your disaster planning meetings prior to the emergency, learn how to catch a wild (not tame) bird. You may be able to get this training from members of local AFA bird clubs.
Try to identify pairs so they can be repaired after they are relocated. Use markers to annotate crates or carriers with locations etc. Do not remove any leg bands.
If you are unable to locate food and supplies for the birds, contact the American Federation of Aviculture, Inc. for assistance.
After evacuation, try to locate the birds' owners and tell them where each of the birds has been relocated.
The American Federation of Aviculture, on behalf of the bird owners, appreciates any help you can give to successfully rescue these birds and return them to their owners.