The Official Publication of the American Federation of Aviculture Inc.
In every issue of The AFA Watchbird you'll find fascinating articles from experts in all aspects of Aviculture. You'll also find resources to help you and your birds with products and services and of course beautiful photos from around the world. And, in our special issue following our yearly convention, you'll also find a recap of the convention; it's the next best thing to being there yourself! Be sure to keep an eye on The AFA Watchbird, your news source Aviculture and The American Federation of Aviculture Inc.

Would you like to submit an article or have an article idea? Please contact AFAWatchbird@AFAbirds.org with your idea or article.
Current Issue of the AFA Watchbird Journal April 2023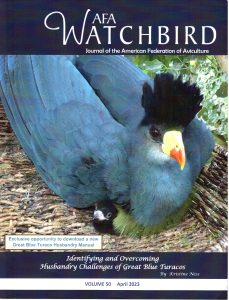 Looking for past issues of the AFA Watchbird Journal? Researching a certain species, methodology, husbandry practice? Check out the digital library of past AFA Watchbird Journals. A searchable database of avicultural articles dating back to 1974.  The creation of our digital archive was supported by the Texas A&M University Schubot Center for Avian Health.

The American Federation of Aviculture is a nonprofit 501(c)3 educational organization
One-year individual membership/subscription is $40
Allow 90 days for the first magazine to arrive after submitting new membership.

SINGLE COPIES (Back issues only) are $18.50 each, plus $3 shipping and handling.

FOREIGN MEMBERS: Add $40 per year for overseas or $20 per year for Canada/Mexico. U.S. funds only.

ADVERTISING RATES AND DATA available on request. Send to AFA WATCHBIRD, P.O. Box 91717, Austin, TX 78709. Or email the AFA Office at AFAOffice@AFAbirds.org

Publisher reserves the right to exclude any advertising not conforming to AFA standards.

DISCLAIMER: The American Federation of Aviculture, the AFA WATCHBIRD and its staff assume no responsibility for claims of advertisers or for the quality of goods and services the advertisers provide, nor do they underwrite the accuracy of the opinions or information published in the AFA WATCHBIRD or any AFA publication. Anyone with substantiated claims against AFA WATCHBIRD advertisers may submit them to: AFA, P.O. Box 91717, Austin, TX 78709.

EDITOR: Unsolicited manuscripts and photographs are welcome, provided they are original and AFA WATCHBIRD has appropriate publication rights. Please contact AFAOffice@AFAbirds.org with submissions or inquiries. Mailed submissions cannot be acknowledged or returned unless accompanied by a self-addressed stamped envelope (SASE). Letters sent to the editor become the property of AFA and are subject to editing and publication unless a specific exemption is requested. Letters and editorial replies reflect opinions of participants, not necessarily the official views of the AFA.

COPYRIGHT 2019 American Federation of Aviculture. No part of the contents of this magazine (including line art or photos) may be reproduced by any means. AFA policy is to authorize reprints of articles, provided that express written permission is obtained from AFA WATCHBIRD, P.O. Box 91717, Austin, TX 78709. Office phone: (512) 585-9800 Fax: (512) 858-4136.
Since April 22, 1977, it has been the policy of the AFA to disqualify or expel from advertising or membership any applicant who has been convicted of a violation of any state or federal law concerning the importation, interstate shipment, possession or inhumane treatment of any avian species.

THE AFA WATCHBIRD (ISSN 0199-543X) is published by the American Federation of Aviculture, Inc., P.O. Box 91717, Austin, TX 78709.
POSTMASTER: Send address changes to The AFA WATCHBIRD, P.O. Box 91717, Austin, TX 78709.